The lovely folk over at Money Supermarket are running a competition to celebrate 30 years of the great British pound coin. To enter the competition all you have to do is a) be a blogger, b) write out your top 30 tips on saving money and c) email the finished link along with your paypal email address to competitions@moneysupermarket.com. Simple. So, get entering as you could win £1000 and the more entries that they get the better chance you have of double that prize to £2000. So what are you waiting for? Here are some tips that I try to live by....
1.
Use up an entire product
- If you feel like you've reached the end of a tube of moisturiser or foundation (whatever really),
don't
throw it away just yet....cut off the top section to discover a whole load of product you've missed. Use the cut off as the new top for the product.
2. Be patient
- If you've seen something you want to by and it's just been released, wait a while. Usually after a couple of weeks of being on sale, a product with drop in price or be on offer.
3. Go compare!

(Sorry!)
- Check online comparison websites to see if something is cheaper at a different place.
4. Bulk up -
When things are on offer, buy a few of them. That way when you run out of one, you've got a back up and you can hold on until the product goes back on offer (which it will).
5. Get creative
- If you see a top or some pants that you like, try and creative them yourself using some old clothes.
6. Home made
- Look up online ways to make your own beauty products. It's simpler than you think to make your own face masks, hair masks and lip scrubs, etc.
7. Switch It Up
- Check out store home brands as an alternative to what you're using now. Most of the time they turn out to be better than the more expensive item.
8. Set Your Sights A Bit Lower
- When out shopping look on the lower shelves first, as they will most likely be the cheapest products.
9. Collect Cards
- Think about getting store cards - not credit cards - like Boots Advantage card and Superdrug's Beauty card.
10. Pack It
- If you're going out for the day, take your own packed lunch. This way you're getting food you like whilst saving on having to go to a cafe/restaurant.
11. Be Travel Smart
- If you travel a lot on public transport, think about buying a weekly/monthly pass as this will save you more money in the long run. Or travel with a friend to save on fuel expenses.
12. Coupon Lady/Gent
- Sign up to websites like vouchercodes.co.uk, netvouchercodes.co.uk and of course, moneysupermarket.com.
13. Clothes Shopper
- Instead of looking on clothing retail sites, check out ebay first and you might get a new outfit for the price you were going to pay for one item.
14. House Wizard
- If you're in need of house cleaning products, have a look online for home made alternatives. You wouldn't believe how much money you save.
15. Swapsy!
- Are you bored with some of your things? Clothes? Make-up? Well, why not invite your friends around and have a swapsy night. They bring things that they want to get rid of and you can exchange items with them. You get a fresh set of items and don't have to spend a penny.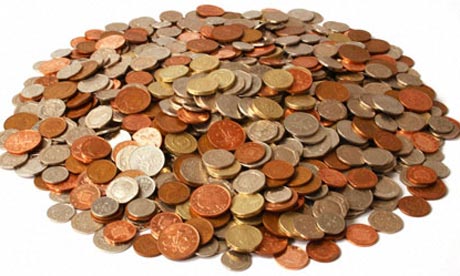 16. What're Me Ben'fits?!
- Are you getting the most out of your mobile network provider? Is your network the best one for you? There's a lot of different suppliers these days and they all offer some sort of reward for using their network. So, if you're a movie fan, check out Orange for their 2 for 1 cinema tickets. If you like getting money off vouchers, check out Vodafone.
17. Saturday Night Cooking
- If you have friends or family round at the weekend and you're thinking of ordering a takeaway, why not just cook your own meal? It's quite easy to make your own curries or pizza.
18. Consider The Chances
- Before buying something take a few minutes to consider whether you will actually use it/wear it. A lot of us buy things on a whim and end up burying it in the back of the cupboard/wardrobe. So think before you buy.
19. Library Cards Come In Handy, Y'know
- If you fancy reading a new book, why not pop into your local library and ask them to get it in for you? It'll save you spending money AND you return it after you've read it, so you won't end up piling up the books after you've read them.
20. Testing, testing
- Before buying a full sized product, get a sample of it first. That way if you don't like it, you haven't wasted your money.
21. Re-arrange

- If you're fancy a switch up in the rooms around your home, why not re-arrange your furniture and move them into different rooms. That way you get a completely new look whilst saving on buying new things.
22. Recycle

- Instead of buying storage boxes for your bits and pieces, why not re-use empty coffee jars. It simple to decorate them with some paint and it's a really cheap, easy alternative.
23. Downgrade

- Do you have Sky TV? Do you watch ALL the channels on it? If not, why not downgrade it to a free digi-box? You get a variety of channels that are shown on Sky, but you save £30+ a month.
24. Bargain Hunt

- Instead of buying your things from Asda, Morrisons or Tesco, why not check out Home Bargains, B'n'M or warehouse stores. Products are usually a lot cheaper in those stores than they in large supermarket chains.
25. Vamp It Up

- If you're bored of your furniture, why not do some DIY? Get some paint from the store and some different fabrics and get creative.
26. Sell It Online

- A lot of websites have been created where you can get cash for your unwanted items. Sites like Music Magpie, Zapper and WeBuyBooks offer you cash for your unwanted cds, dvds and books.
27. Be Money Cautious

- When going out on the town or just for a little shopping session, think about how much money you can afford to spare, take that with you and leave your purse and your cards at home.
28. Personal Print

- If you're a person who likes getting family snaps printed out, why not buy your own printer? Some places these days can charge you up to 30p for one picture, if you buy your own camera printer you will save a lot of money in the long run.
29. Say No To The Gym

- I don't understand people who spend money on going to the gym when it's totally free to go for a walk, a run, a bike ride or get out your old skipping rope. You can lose weight at home without spending money on a gym membership.
30. Whoa, It's How Much?!

- If you enjoy getting pampered and getting your hair done at the salon, it can become quite straining on your purse. So, why not do it all at home. Get your friends round, get your newly discovered home-made beauty products out and get relaxing. I know some people are dubious about home hair dyeing, but it costs a fraction of the price it would at the salon and all you need is a friend to help you.
And there are my tips. I know quite a few bloggers will have similar tips as we are all money savers at heart. I hope you take away a few tips from this list and they help you save some pennies.
For full details on the competition, visit

here

.