I've seen this tag going around for a while now and I finally got around to writing out my own. This is the 'What's In My Makeup Bag' tag, basically showing off the things that I use on a day-to-day basis.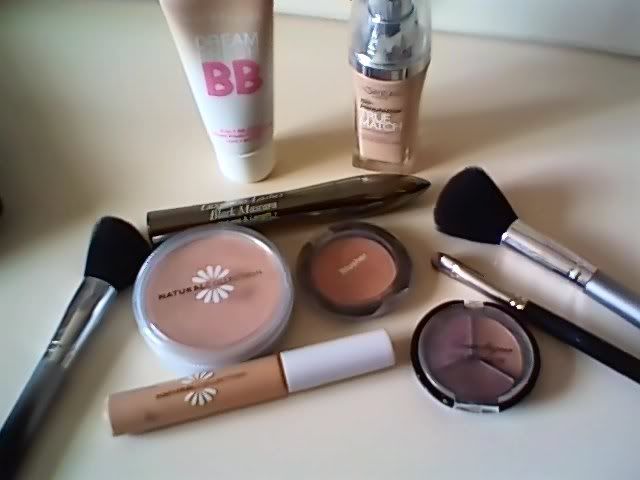 At the moment, these are the items that i've been using everyday. I'm comfortable with them for the time being, but I'll definitely be changing the mascara soon! It's not very good.
On the blue moon days when my skin actually looks nice, I usually just pop on some of
Maybelline's Dream Fresh BB Cream and dab on some pressed powder. I'm not really a fan of the BB Cream as it's too orange for my skin, but I blend a small blob out and it doesn't look too bad. I wouldn't recommend this to fair skinned girls as it's just horrible.
On the days when I'm going out somewhere or my skin isn't looking its best, I blend
L'Oreal's True Match Foundation in
'Rose Ivory'
all over my face and I'm left with lovely looking, natural skin. This is definitely my favourite foundation right now. For any imperfections, I'm currently using
Natural Collection's CoverUp Cream
in 'Fair'.

It's not the best at covering scars, but it does a good enough job when teamed up with the foundation.
I have combination/oily skin, so I do need to powder over my foundation. I've been using
Natural Collections Pressed Powder in 'Cool'

and it's a nice powder. It doesn't last too long, but it's okay for the time-being. Being pale skinned, I tend to look a bit washed out when I've applied my foundation, so I blend a bit of
George @ Asda's Blusher in 'Fresh'

onto my cheeks and this make me look a lot less frozen. I don't do a lot with my eyes, I just add some of
DermaV10's Luxurious Lashes 'Black' Mascara and I'm good to go! If I ever feel like adding some colour I pick out my
Beautique Eye Shadow Trio and blend in some of the soft pink/brown to create a natural look. I don't use any fancy tools to apply my makeup, just basic brushed from the pound shop. They get the job done, so why pay more?
What do you have in your make-up bag?
Laura x